Crown-O-Matic Safety Device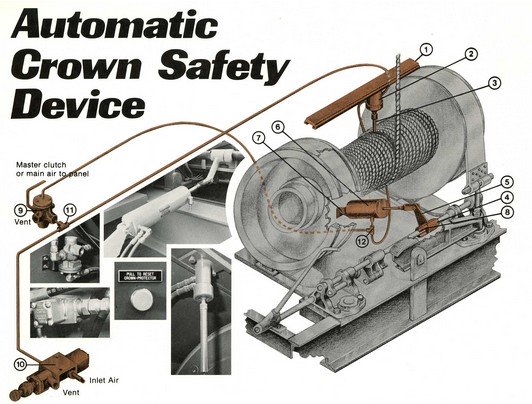 Complete Crown-o-matic parts list

Toggle Valve Drawing & Parts List

Installation Instructions

The Automatic Crown Safety Device ( Crown-O-Matic )is a safety aid installed on a drawworks drum to control the distance a traveling block may be pulled into the derrick this eliminating the possibility of pulling the traveling block into the crown.

A toggle valve is mounted in a track (for adjustment) above the drawworks drum and the toggle valve is actuated by extra line being wrapped on the drum. When valve is actuated the drum clutch on drawworks is disengaged and the mechanical brake is locked down by use of an air cylinder.


Installation of this safety device is very simple and may be installed on any existing drawworks. Installation may be made in the field with rig operating with a minimum of downtime.

Each unit comes complete with all necessary parts for installation, including hose and adapters. The only additional item required will be a welder and welding machine.

The safety control system includes a stainless steel toggle valve and stainless steel inter-liner in the air cylinder, which eliminates corrosion from H2S gas and other corrosives.